Updated on September 16, 2020
Anorexic Teens
Today, anorexia is a rising and dangerous disorder among teenagers. Shockingly, 15% of teenage girls are struggling with an eating disorder in the United States. This is in accordance with the 5 million Americans suffering from eating disorders every year. Those who are anorexic utilize extreme dieting, starvation, and portion control to reach an unrealistic low weight.
Researchers are continuously studying the distorted perception put forth with sewed body image. When an individual is struggling with an eating disorder such as anorexia, they are sheltered from the reality of their physical appearance.
Alarmingly 78% of teenage girls, at age 17, said that they were self-conscious about their body image. These teenage girls report being highly influenced by the media, their friends, or were involved in sports activities that stress weight. 
Anorexia is a life-threatening disorder that affects up to 5% of American teenage girls and is not limited to just teenage girls. Among teenagers 10% of those suffering from anorexia are males.  
Common Signs of Anorexia in Girls
Looking thin

Losing a lot of weight rapidly

Dizzy spells or fainting

Can't sleep

Complaining that she's cold, wearing multiple layers of clothing

Irregular or absent periods

Obsessed with food intake and diet

Skips meals 

Eating in isolation

Irritability

Social isolation or withdrawal from friends
Anorexia in Boys
While there's a lot of focus on girls with eating disorders many parents aren't aware of the high prevalence among teenage boys.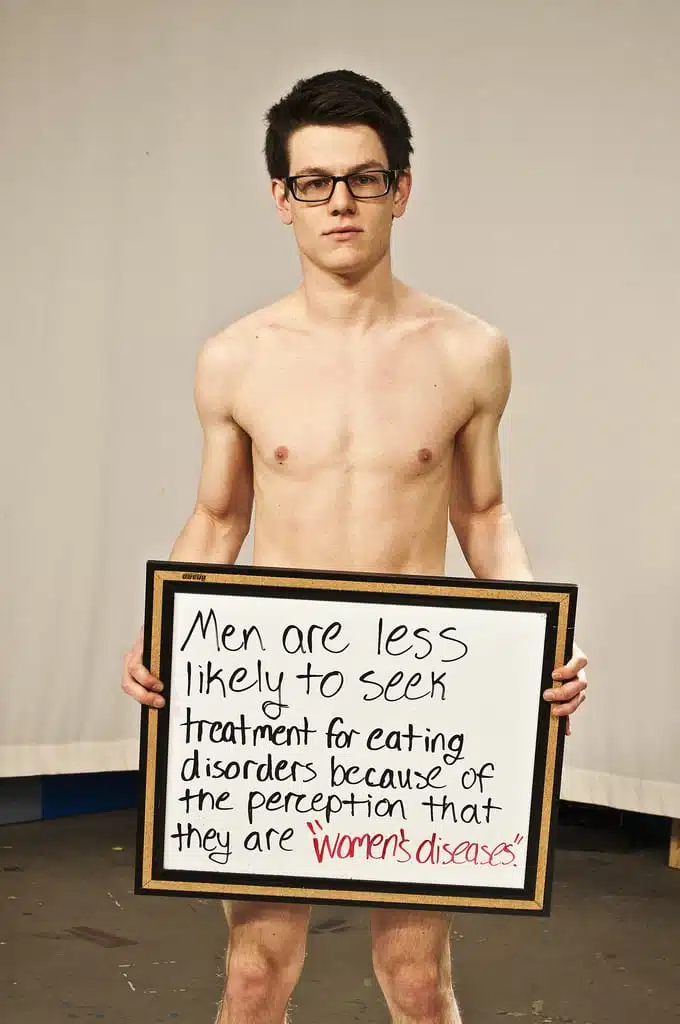 In fact, teenage boys competing in sports that emphasize weight, diet, and appearance as many as 33% of male athletes are affected. The signs of anorexia for boys are usually present slightly differently and often go unnoticed until much later. 
Boys usually are obsessed with exercising, they refuse to eat some meals or types of foods or have unusual behaviors around food.  If your son suddenly becomes obsessed with calorie counts, is constantly weighing himself, and starts to avoid activities that involve food or develop new eating habits that are outside of the norm, you should look a little closer. 
Serious Side-effects of Teenage Anorexia Include:
Liver, heart, and kidney damage

Lack of energy

Poor concentration

Fainting/ light-headedness

Poor academic performance

Depression

Loss of hair

Brittle hair and nails

Anemia

Death including suicide
The most heartbreaking statistic on teenage anorexia is that 5-20% of those suffering from the disorder will die from direct or related causes. In fact, Anorexia is reported to have the highest fatality rate of any mental illness and only one-third of those suffering from Anorexia seek treatment. 
When an individual starves themselves from the necessary nutrients, they are opening up the doors for additional health issues. 
Sadly these individuals do not see their weight as shocking; and for many, it will take a professional intervention to help cure this dangerous disease.
Anorexia Bulimia and Binge Eating
Bulimia Nervosa is more common among teenage girls and nearly half of bulimia patients have a comorbid disorder.  There's evidence that Bulimia and Anorexia are interconnected, in some instances it presents as Anorexia Binge Eating or Anorexia with Bulimic Tendencies. 
Teenagers are vulnerable and at risk of developing a serious eating disorder.  It is important for parents to understand the risks and recognize the warning signs. 
Help for Teen Eating Disorders
If you are concerned that your child has an eating disorder, speak to a professional, contact your pediatrician, and share your concerns.  Get advice on how to best approach the subject with your child. 
When you are speaking to your daughter or son, be cautious, and get help before you approach the subject.  You don't want your child to become defensive. You can inadvertently make her feel like they are not in control which will have negative consequences.  Avoid judgments or accusations. 
There are many options today to help children and adolescents with eating disorders and compassionate treatment programs that have good outcomes.   
If your child has recovered or recently completed treatment for anorexia, it may be a good time to consider the next stage of treatment.  
A residential treatment center with therapeutic and academic components can provide Cognitive Behavioral Therapy, and prepare your child to discover a healthy, functional approach to her life. It will help her regain control over all aspects of her or his life, not just the relationship with food; including catching up academically and regaining her self-confidence long-term.