Updated on June 27, 2023
Parent Guide on Teen Addiction Treatment and Recovery - A Journey to a Brighter Tomorrow
Mental health and addictions in teenagers often go hand in hand. When you find your child struggling with substance use, you may find yourself wondering what to do to not only get them the immediate help they need but also to prevent a relapse. 
Parents often start with the basics by sending their teenager to rehab for a thorough detox, but this may not be enough. 
Rehab for a teen struggling with drug or alcohol addiction is a good starting point, but it's not enough in and of itself. When your child is done with rehab, the steps you take afterward are essential to preventing relapse.
An effective treatment that sets the stage for success requires post rehab drug and alcohol treatment planning that addresses co-occurring disorders in addition to addiction.
Relapse Statistics Paint a Sad Picture
High Relapse Rates and the Need for Comprehensive Treatment
To understand the importance of post-treatment planning, you must first understand how high the relapse rate for children who go to addiction rehab is.
According to the Journal of the American Academy of Child & Adolescent Psychiatry, relapse rates for teens can be as high as 70% in the first six months of finishing a substance use disorder program. Across all substances, the rate is between 40 and 60%.
For a concerned parent, these are sad and sobering numbers. You want to know that you're giving your child the best chance of success after an addiction battle, but the statistics aren't in your favor.
Thankfully, if you take advantage of post-treatment planning, you can create a successful path for your child.
How to Choose the Right Treatment Facilities
If your child is caught in the throes of addiction, you will need two treatment faculties. The first is a detox and rehab facility. Here, your child will be under medical monitoring as they detox from the substances they have been using. Medical staff can use medication to limit withdrawal symptoms and prevent severe discomfort during this time.
When a child goes to rehab for addiction or a mental health disorder, they receive intense therapy for a short period of time. However, this is just the first step. After detox, you need a post-treatment facility to help.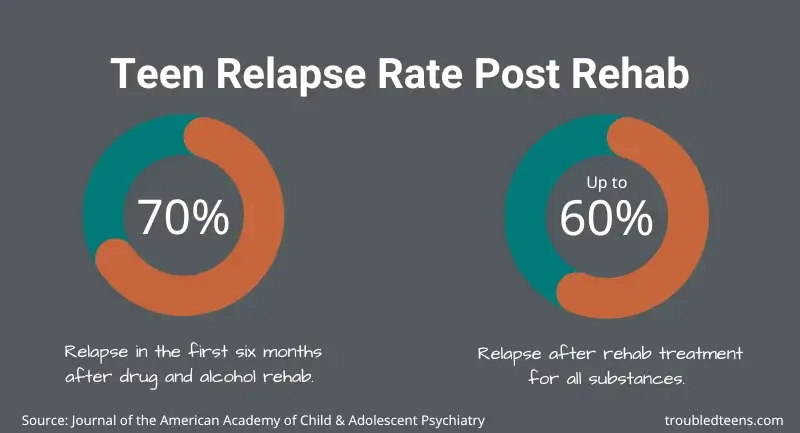 What Is Post-Treatment Therapy?
Post-treatment planning involves choosing a second facility to provide your child with mental health and addiction treatment after they finish detox. As you look for a facility, you must find a treatment program that treats the whole teen.
This includes treating the mental health concerns that usually accompany addiction. A co-occurring treatment program is usually more effective than one that targets addiction alone.
You can't just leave the child on their own after detox, but you will have to make the choice between residential treatment or outpatient treatment. Often, a residential treatment center is the most effective way to address both the addiction and the mental health concerns to avoid the risk of relapse.
Therapeutic boarding schools can also be helpful, but they may not be as well equipped to address addictive behavior.
What Types of Therapy Work Best for Post-Treatment Planning
A good aftercare plan post-rehab should include several components. These include:
Temporary stay in a residential treatment center or therapeutic boarding school
Family therapy to address any familial issues that are contributing to the behaviors
Cognitive behavioral therapy on an ongoing basis
Use of medication, if necessary, to control mental health concerns
Individual and group counseling on an ongoing basis
Life skills development and growth 
12-step meetings
Your child's treatment facility will create a custom post-treatment plan that will include the right combination of these therapies to address your child's specific mental health and addiction concerns. With a personalized care plan, you can have the best chance of success.
How to Choose a Post-Rehab Therapy Program
As you look for the best way to help your teen, take time to evaluate the program carefully. You want to find a program that offers a variety of treatment modalities. What works for one teen may not be what works for another, so the more types of treatment, the better.
Talk to the therapy center about their approach and philosophy of treatment. Look for one that allows the family to be involved in the teen's recovery and that supports a healthy aftercare program.
Alumni groups are a good way to evaluate the quality of a program and its aftercare planning.
What About Relapse Prevention Success Rates?
As you evaluate treatment options, you may wonder about relapse prevention success rates. Before you evaluate these, you must understand that addiction is a chronic disease, and relapse is part of the process.
Your teen may need repeated treatment to stay on the path of sobriety. Many programs see kids coming multiple times, especially if the parents do not invest in residential treatment the first time help is needed.
No treatment facility can claim a 100% success rate for rehab or post-treatment therapy. There are too many factors that can lead to relapse in teens. For example, for any rehab program to work, the person struggling with addiction must have motivation for success.
While you can detox and get them on the right path, they must take ownership of the situation to overcome it thoroughly. However, ask the treatment facility about their relapse rate. They should have data they can share that shows the success of their program.
What is the Family's Role in Helping an Addicted Teen?
All of this talk of treatment centers may leave you wondering if you have a role to play in caring for your teen. Family support is vital in this process. As a parent, you are the one that will spearhead the planning and implementation of an aftercare plan. 
While your rehab center may recommend treatment facilities, you are the one that will choose one and book a stay. You will also need to provide ongoing support and love to your child as they move through this process. Your role is critical.
How to Protect Your Teen from Relapse
As a parent, there's quite a bit you can do to help your child avoid addiction. Here are some strategies that can set you both up for success:
Learn about addiction – The more you understand about substance abuse and how it impacts teens and their mental health, the better you will be able to protect your child.
Get involved – Talk to your teens' addiction and mental health treatment team. The more involved you are, the better the outcome will be. Take part in family therapy and treatment options.
Journal – Getting your own thoughts and ideas down on paper will help you process not only what your teen is going through but also how it is affecting you.
Check-in – Have regular checkups with your teen's therapy team to see what their level of sobriety is. Remember, your teen is likely quite skilled at hiding their struggles from you, so get the experts on board.
Get therapy – Get therapy for yourself so you're equipped to help your teen. You will learn healthy coping mechanisms to pass on to your teen.
Do residential first – Avoid the mistake of moving your teen from rehab directly to an outpatient therapy program. Residential treatment is more successful in preventing relapse.
In addition, take practical measures to avoid relapse by taking advantage of the programs available to you and your teen. Some factors that increase the chances of success at relapse prevention include:
Participation in alumni programs
Continued family counseling even after dual diagnosis treatment is done
Community-based self-help groups for addiction
Addiction and Mental Disorders Are Tough, But Help Is Available
As you look for addiction treatment options beyond drug and alcohol rehab, remember that this process is tough. Working with cooccurring disorders is challenging, and substance use is rarely independent of other issues. However, don't lose hope. 
You can give your child the tools they need to successfully fight teen drug use and the mental health issues that accompany it. Take time to research your options, make sure you plan for aftercare after rehab for drug and alcohol abuse, and you will give your child the help they need.