Updated on March 29, 2023
What is a Therapeutic Boarding School?
A residential alternative school that focuses on helping teens with emotional, cognitive, and behavioral challenges, therapeutic boarding schools provide adolescents with a structured, academic environment that is supplemented with therapy and counseling.
Teachers, psychologists, and counselors remain deeply involved with students attending a therapeutic boarding school (TBS) to help restore equilibrium to their emotional and mental health. The time a teenager spends at a TBS is typically one year but could be shorter or longer, depending on the type and severity of the teen's professional diagnosis.
A therapeutic boarding school campus is beautifully landscaped and usually situated in the countryside. Classes are held in the same building where students live in a dorm-like setting. Students will have free time included in their schedule so they can participate in individual and group activities outside the main building.
Many therapeutic boarding schools offer hiking, horseback riding, basketball courts, and other outdoor pursuits that contribute positively to a teen's residential treatment program.
Parents should be reassured that the environment in which their teen will receive school classes and participate in therapy is highly structured and monitored. At no time are students able to leave the main building without being accompanied by an adult supervisor.
All indoor and outdoor activities are also monitored to prevent disruptions within the therapeutically-controlled environment. In addition, this methodical supervision of all students reinforces the ability of teachers and counselors to immediately stop and address unwanted behaviors.
Tuition costs of a TBS vary. The best way parents can learn how much a TBS charges is to call the therapeutic boarding school to discuss expenses and payment plans with a representative. troubledteens.com can provide information immediately about therapeutic boarding schools for troubled teens and save parents the time and stress of searching for a TBS that is right for your teen.
How Would a Therapeutic Boarding School Benefit a Troubled Teen?
Whether a teenager is dealing with mental illness, substance abuse, personality disorders, or behavioral issues, a therapeutic boarding school provides the kind of curative, constructive environment that struggling teens need to heal and thrive.
For example, an adolescent child who abuses drugs and engages in criminal activity at home won't be living in the same corrupting environment they had access to at home when living at a TBS. Being away from"triggering" situations and among experienced professionals who know how to help a teen with psychological and emotional problems has proven to be a successful part of residential treatment programs for troubled teenagers.
When Should You Consider a Therapeutic Boarding School for Your Teen?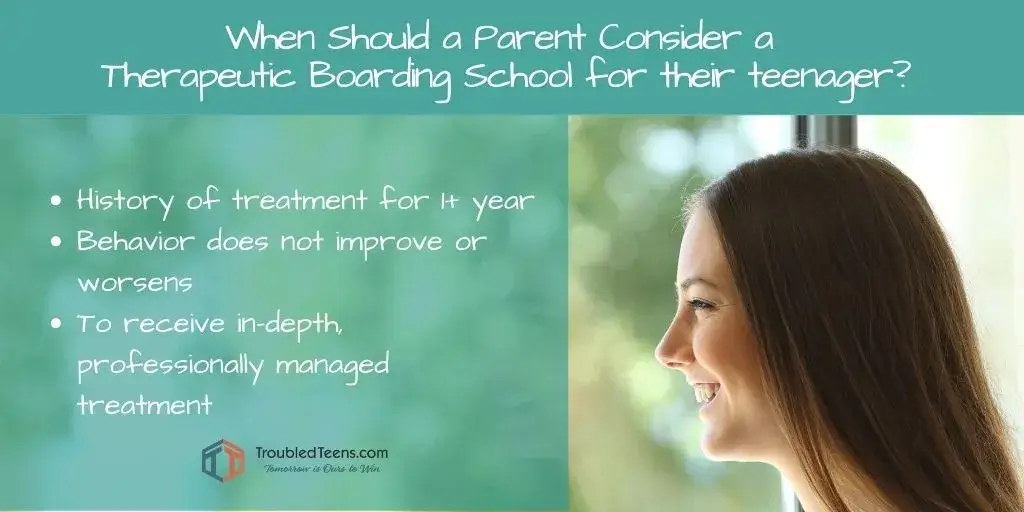 Other reasons why parents choose to send their teens to a therapeutic boarding school include mental illnesses such as major depression or anxiety that interferes with their academic progress, learning disabilities, ADD, ADHD, or Asperger's.
Teens with these concerns experience problems with completing schoolwork, going to school regularly, and learning how to communicate appropriately with others. Oppositional defiant disorder (ODD) is another common diagnosis of teens attending therapeutic boarding schools.
Children and teens with ODD present continuing patterns of behavior punctuated by a defiant, often hostile attitude toward authority figures. They typically refuse to comply with house rules, threaten physical harm when confronted, and participate in criminal activities with older teens.
When Should a Parent Consider a Therapeutic Boarding School for Their Struggling Teenager?
How does a parent know it is time to consider sending their troubled teen to a therapeutic boarding school? Consulting with school counselors, teachers, and adolescent psychologists can help parents determine whether a TBS would benefit their child.
Basically, if a teen has been receiving treatment for a year or longer and their behavior has not improved or worsened, parents must realize a life-changing adjustment to the status quo is necessary to ensure their teen gets the kind of in-depth, professionally managed treatment found only at a therapeutic boarding school.
For many parents, the decision to place their teen in a TBS comes after the teen has been arrested, expelled from school, assaulted another person, threatened to harm someone, or has simply become uncontrollable.
By this time, parents have usually had their teen diagnosed by a psychiatrist or psychologist with one or more disorders. In addition, the teen may be taking medications that are not working, or the teen has refused to take medication that may help him. 
When it comes time to remove the teen from their home environment, parents might need to consider talking to an intervention specialist who is trained to deal with uncooperative teens.
The admissions process into a TBS involves the teen's consulting physicians, mental health specialists, and parents discussing the teen's psychological and emotional problems. The teen's past behavioral demonstrations and diagnosis are also used to develop a treatment program unique to their needs. Therapeutic boarding schools admit teens on a rolling basis that eliminates inconvenient, once-a-year admission restrictions.
5 Mistakes to Avoid When Choosing a Therapeutic Boarding School for Your Troubled Teen
Don't accept that schools on a list of the best therapeutic schools are suitable for your teen. Do thorough research on each school that you are interested in before contacting them.
Be aware that emotional growth schools are not therapeutic boarding schools. The two terms are often used interchangeably in online articles about troubled teens. An emotional growth school does not offer academic studies or intense therapy and counseling for teens with serious emotional and mental health issues. Instead, emotional growth schools focus on improving a teen's self-esteem, self-acceptance, and self-awareness by offering holistic workshops and group activities with peers.
Ask the TBS about their accreditation and licensing status before inquiring about anything else. The National Association of Therapeutic Schools and Programs is one such accrediting agency that can be trusted.
Ask about the academic programs offered by the TBS. Programs should be constructed to assist students in achieving their current grade level (if they are behind) and prepare them for college courses, if applicable.
Does the therapeutic boarding school provide ample time for teens to enjoy leisure activities with peers? Find out what kind of activities the school offers and if these activities are conducive to improving a teen's life skills and communication abilities.
If you are a parent of a teen who is out of control and you don't know what else to do to help your teen, please contact troubledteens.com today to learn more about the benefits of a therapeutic boarding school. We provide comprehensive assistance to parents who have exhausted all options and can't decide what the next step should be.