Updated on June 21, 2021
A guide to choosing a therapeutic boarding school for troubled girls
Society places a tremendous amount of pressure on young girls. Sadly, troubled teen girls are becoming more and more common, as social media and bullying create mental health concerns at a younger and younger age. When girls are struggling and start exhibiting behavioral or mental health issues, parents need to be proactive. 
Therapeutic boarding schools for girls can provide a supportive and healing environment alongside adequate supervision to ensure girls can come through these struggles successfully and gain the social and emotional skills they need to avoid problem behaviors. If you are looking for a boarding school for girls to help your troubled teenager, here is what you need to know.
Common Problems for Today's Teenage Girls
The teenage years are full of emotional and physical changes. This is a time when many girls start to exhibit more independence and boundary-pushing, and parents struggle to know what to do. Yet society is placing more pressure on girls as well, as television and social media make perfection seem attainable. 
Technology is creating a rise in self-esteem problems and depression. Cell phones make bullying more common as well, as girls cannot get away from the pressures of their social circles.
Parents who have a daughter struggling with self-esteem, bullying, and depression may not see the signs early on. However, as these problems grow, they can manifest in problems with friendships, sexual behaviors, cutting, eating disorders, and even aggressive behavior. If you see these problems brewing, it's time to take action and get help for your daughter.
 A therapeutic boarding school for girls can be the right partner to help you start your daughter on the path toward healing.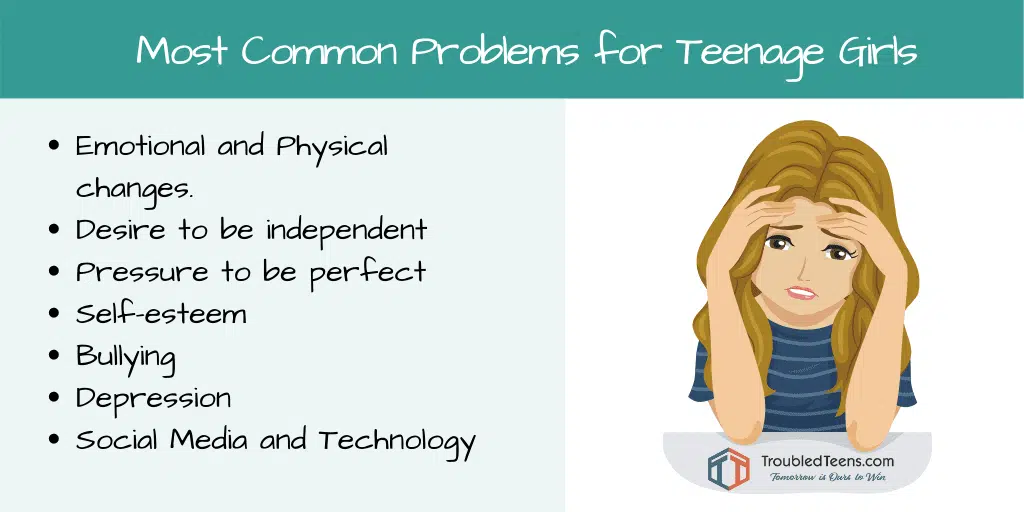 Services Provided at a Boarding School for Girls
A therapeutic boarding school is a residential school that provides social and emotional therapy alongside a quality education. This can be more successful than outpatient therapy when a girl lives at home because the entire atmosphere of the school is designed to encourage teens to heal emotionally and learn better social and emotional skills. 
In addition, because a school is residential, the staff has time to add more types of therapy, such as cognitive behavioral therapy, individual therapy, and group therapy, throughout the day. The staff can also get to know the girl on a deeper level, so the therapeutic activities are tailored to her specific struggles.
Many troubled teen girls struggle to keep up with their academics due to the other struggles they are facing. At a therapeutic boarding school, the staff can help these girls play catch up, so they are ready to re-enter their traditional school when they leave the program. 
Academics are an important part of these programs, even though emotional and behavioral therapy may be the primary focus.
Being in an all-girls environment can provide a nurturing and supportive place for healing, without the pressures that come from male-female relationships. Staff is able to create a specialized program that addresses the emotional needs of female teenagers specifically, and this can provide the right environment for your daughter to find success and overcome the emotional struggles she faces.
5 Tips to Choosing the Right Therapeutic Boarding School for Girls
If your daughter is starting to display dangerous behaviors, chances are the struggle goes deeper than you think. Yet choosing the right boarding school can feel overwhelming. Here are some tips you can use to find a program that will help bring positive change in your daughter's life.
1. Ask for Referrals and References
A quality school is going to have a list of girls and families it has helped. Those families will want to talk about the positive nature of their experiences with the school. Ask for referrals and references from the school, and follow up to see what these families' experiences were.
2. Ask for Credentials
The right therapeutic boarding school will have credentialed staff. This includes licensed teachers and certified counselors. Ask for these credentials to verify that the program is offered by true industry professionals.
3. Learn the Types of Therapy Offered
There are multiple types of therapy that can help troubled teen girls, so ask about the types used at the school. You want a school that utilizes science-backed approaches to behavioral and emotional therapy. 
Dialectical behavior therapy and cognitive behavior therapy are two of the most commonly used, and very effective, options. Consider looking for a school that also offers family therapy in addition to working with the girls because this will help your family create a supportive and positive environment when your daughter leaves the program.
4. Consider the Supervision
One of the reasons therapeutic boarding schools are so effective at helping troubled teens is the fact that they remove the social influences that make your daughter's struggles harder. They also provide structure and round-the-clock supervision to help stop problematic and dangerous behaviors. Ask detailed questions about the way the program is supervised to ensure that your daughter will be safe and supported during her stay.
5. Discuss Personalization
Finally, make sure the program is personalized to the needs of each girl who enters. Therapy is not a one-size-fits-all process, and quality programs should have intake interviews and assessments that help them personalize the treatment to your daughter's unique needs.
Consider a Therapeutic Boarding School for Girls to Give Your Daughter a Chance to Heal
Having a troubled teen girl does not mean you have failed as a parent. There are simply too many pressures on today's young women. If your daughter is struggling with behavior or mental health issues, you need to get her appropriate help. 
The right boarding school for girls can be the supportive environment she needs. Do your homework to find a high-quality therapeutic program, and enroll your daughter. Hope and healing are available for your entire family with the help of a therapeutic boarding school for girls.
Does Your Child Need Help?
Has your child's behavior changed? Are you worried your child has given up? Is your child acting out or engaging in self-destructive behaviors? We can help you find the right therapeutic residential program.