Updated on January 26, 2022
How to Help a Teen Refusing Treatment
Teenagers with mental health or severe personality disorders struggle to manage thoughts and behaviors that get them in trouble. Combine that with parents who have tried everything to help their troubled teen and there doesn't seem to be a "one size fits all" solution for anyone involved.
When an adolescent therapist suggests to parents that a residential treatment center can give their child what they can't provide, how should the parent approach their teen? Most kids think that residential treatment centers are "institutions" or boot camps and will adamantly refuse to go. A teen refusing treatment often cites additional reasons for not going:
"I'll get behind at school".
"My friends will forget about me".
"I won't be able to look anybody in the face".
"My girlfriend/boyfriend will break up with me".
"You just want to get rid of me because I'm too much trouble".
"There's nothing wrong with me! It's just that nobody understands how I feel. Nobody cares!"
How can parents address a teen's refusal to enter a residential treatment program without resorting to a teen transport service?
Tips for countering a teenager's arguments against residential treatment involve patience, validating their feelings, and remaining as calm and objective as possible throughout the discussion. Here are ways to help your teen refusing residential treatment:
Avoid Labeling Your Teen
Don't use "trigger" words like "mental illness", "disorder", "prison" (such as, "if you don't get help, you'll end up in prison one day") and "violent". Teens are especially resistant to labels they perceive as discrediting their true identity. Instead, remind your child of all the positive things they've accomplished, their goals, and how a different kind of treatment approach will help them achieve those goals.
Reassure Your Teen
Although you and your child know they will be living 24/7 in a treatment center, you can try to relieve your teen's fears by telling your child that a residential center is not a prison or boot camp. While there, your teen will be able to talk to their best friend on the phone occasionally and continue with regular school work so they don't fall behind. If your teen is embarrassed about going to a residential treatment center, inform him or her that these centers are bound by confidentiality rules that protect your teen's privacy.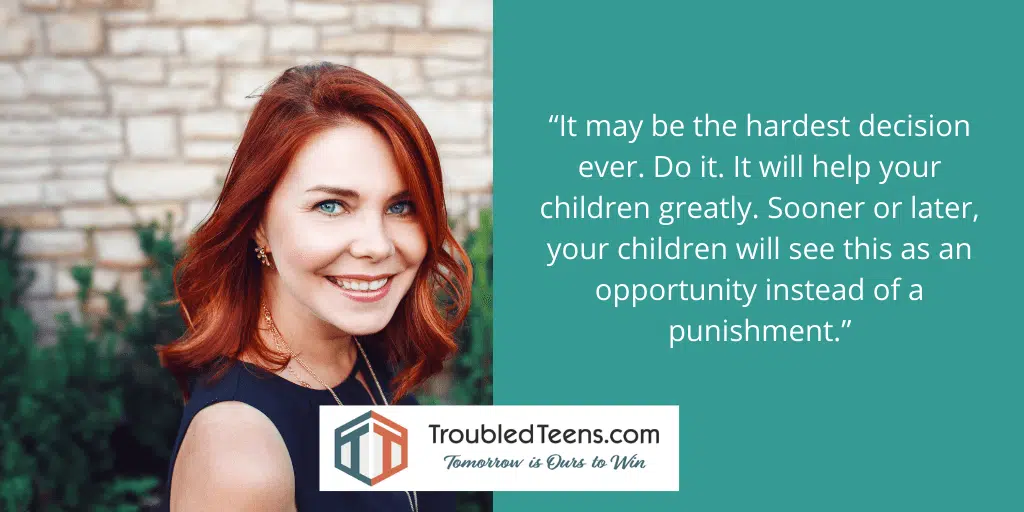 Countering the "Treatment Won't Help Me" Argument
A teen refusing treatment usually isn't self-aware enough to realize they have a mental illness or substance abuse problem. Parents can support teens who present this kind of argument by posing the question: "How do you know it won't help if you have never tried it"?
If a teen is currently in therapy and says residential treatment won't help them, parents can explain that not all treatment programs and therapists share similar techniques. In other words, therapists and counselors at a residential treatment center may provide a different approach to addressing a teen's specific needs. Some therapists may rely solely on cognitive behavioral therapy, while others are more experienced with motivational interviewing or dialectical behavior therapy (DBT). What works for one troubled teen may not work for other teens.
Make Sure Your Teen Understands a Residential Treatment Center is not "Punishment"
Parents should reiterate throughout their discussion with a teen refusing treatment that they need more help than they are receiving at home. Talk calmly about certain issues that a teen is currently experiencing–encounters with law enforcement, academic problems, using drugs/alcohol, aggressive behavior that frightens siblings–and firmly state things cannot go on as they have been. Explain that their behavior is negatively impacting their ability to finish high school and eventually earn a college degree. If applicable, parents may also describe how a teen's behavior is upsetting a younger sibling or grandparent.
Consequences of Refusing Treatment
"What happens if I don't go?"
It's inevitable that a teen being asked to enter a residential treatment program will fold their arms defiantly and pose this question. Here is a suggested list of consequences parents may propose:
Taking away car keys/vehicle privileges
Taking away cell phone, Internet and/or access to their social media pages
Changing schools/limiting access to certain friends that are always with the teen when they get in trouble
Teens with jobs who claim they will have no way to work if a parent takes away their driving privileges may be told that a parent will take them to work and pick them up. Depending on a teen's lifestyle, parents can adjust the removal of privileges according to what the teen considers is most important to them.
The Last Resort for Teens Refusing to Enter a Residential Treatment Program?
While most teens eventually agree to go to a residential treatment center, some with oppositional defiant disorder (ODD) or conduct disorder may become physically aggressive over refusing treatment. Parents who suspect their child could harm themselves or others when confronted with leaving home for treatment might consider relying on a professional teen transport service.
This kind of transport service specializes in making sure a teen refusing treatment is taken safely and securely to a residential treatment center. During the intervention, the transport team typically awakens the teen in the middle of the night, when the teen is in a groggy state of mind. They then inform the teen about what is happening and establish the fact that they are in control, not the teen.
Parents may be in the room when the team is talking to the teen about what is going to happen but won't accompany their child when the team engages in the actual transport. The option to use an experienced teen transport service should be considered a final alternative to helping a teenager get the treatment they need.
Does Your Child Need Help?
Has your child's behavior changed? Are you worried your child has given up? Is your child acting out or engaging in self-destructive behaviors? We can help you find the right therapeutic residential program.
Get Help. Tell Us What You Are Looking for